Biography- Discography - Awards - Line up - Lyrics - Translations



Evanescence means something like "dissipation" or "disappearance" like vapor. (hope the band lasts for long!)







* Singer Amy Lee has agreed to perform on the original soundtrack of the movie: The Chronicles of Narnia, the Lion, the Witch and the Wardrobe. She confirmed the information on MTV.
The film will tell the story of 4 children who discover a magical land ruled by a witch.
Amy Lee said this was one of her favorite stories when she was a kid. She says: "I like this kind of weird things. I think our music is inspired by that. Not only death and morbid things but also the way kids actually see those things"
The shooting has now begun in New-Zealand and film maker Andrew Adamson (Shrek) is the film director. The chronicles of Narnia, the Lion, the Witch and the Wardrobe should be released in December 2005.


* This is it! The new DVD is now available. It hit the stores on November 2, 2004 !
Anywhere but home was recorded at "Le Zenith" in Paris on May 25, 2004 and includes an audio CD with the following titles in Dolby DTS 5.1 : Haunted, Going Under, Taking Over Me, Everybody's Fool, Thoughtless (taken over from Korn), My Last Breath, Farther away, Missing, Breathe No More, My Immortal, Bring Me to Life, Tourniquet, Imaginary and Whisper.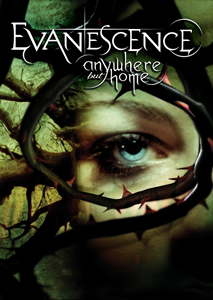 Evanescence are :









The story of Evanescence began with Ben Moody (guitar) and Amy Lee (vocals, piano).Ben was charmed by the singer and offered her to join the band. Evanescence grew strong in Little Rock, Arkansas as their single 'Understanding' was played on a local radio.
Their first EP was released in 1998 (100 copies). A second EP also came to life but only 50 copies were released.
With their first album, 'Origin' (2000), the band started to shape up well but it was only in 2003 with titles like 'Going Under' or 'My Immortal' (Daredevil original soundtrack) that they really became popular.
Their first album 'Fallen' (2003)was an instant success across the world. 4 titles were played on the biggest radio networks in France and in the world! Everything was running smooth for them when guitarist Ben Moody suddenly quit in the middle of the European tour in Fall 2003! Terry Balsamo (Cold) replaced him and became the band's official guitarist in January 2004.







Evanescence EP (1998)




Sound Asleep EP (1999)




Origin (2000)




Fallen (2003)




Single Bring Me To Life maxi (2003)




Single Going Under maxi (2003)




Single My Immortal maxi (2003)




Autres démos




Next album ?

After the European tour Amy got back to writing.
The new album should be made available in early 2005... Amy said she was inspired by writer Anne Rice and was also currently in a darker mood and that it would reflect in the album.






"Fallen" is 6x Platinum Debut album and has sold over 12 million copies worldwide.
Evanescence has won an NRJ Music Award as best band of the year, 2 Grammy Awards as best hard rock band and best new artist, 2 Billboard Awards as best new band and best song of the year.
After the concert at Le Zenith in Paris on October 16, 2003 the band was awarded a Platinum Award (300,000 copies sold in France). Their single 'Bring me to Life' has sold over 350,000 copies.

Evanescence continues with some surprising titles like 'You', 'Breathe no More' and 'Broken', a duo with Shaun Morgan (The Punisher - original soundtrack).